New picture of our Stage 4 Turbo Kit in development for 2009-2014 VW TDI!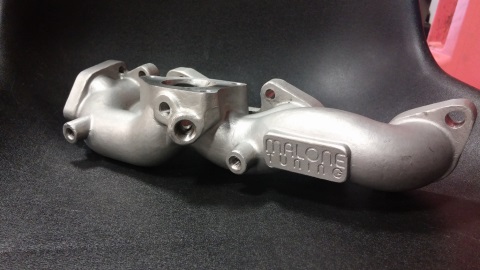 Several months ago we announced on Facebook that we're developing a Stage 4 turbo kit that retains ALL original US and Canadian emissions parts in 2009-2014 VW Golf, Jetta, and Beetle 2.0L TDIs. We're taking our time to ensure that every part is perfect, meeting or exceeding OEM fitment and standards.
Pictured here is a stainless steel cast manifold that exceeds the quality of the original OEM manifold. It has a few advantages over an aftermarket welded tubular exhaust manifold:
OEM style consistency (no warping from hand-welding many pieces).

No weld pinhole leaks and cracks.
Smaller exhaust volume means quicker boost response. Strong Low-RPM torque is why people love driving TDIs (aside from great fuel economy, of course!).
Lower cost without compromises.
The estimated power is in the 200whp-240whp range and the estimated torque is in the 350wtq-420wtq range depending on the turbo size. There will be two or three turbo sizes that you can choose from. These power figures may be with an off-road tune (i.e. race track use). The figures may be lower if staying with factory emissions.
The entire turbo kit will use as few parts as possible to minimize install work, cost, and shipping size.
The aforementioned power figures were achieved with stock fuel hardware during prototyping. Upgrading the high pressure fuel pump to a good quality CP3 kit may give room for some more power (more information forthcoming).
Please do not contact us for updates. We receive too many e-mails as-is. Sign up here to receive updates in e-mail. We will also post on our Facebook page.